Audit System
The purpose of internal auditing is to check and appraise the efficiency of our internal control system design and implementation. Advantech requires auditing personnel to hold an objective attitude during implementation, checking the nine circles of daily operation and related laws and regulations, in order to assist the board and management to reach their operating profit, performance and asset protection goals, and reasonably guarantee the reliability of financial reporting and conformity to related laws.
The internal auditing of Advantech aims to go deep into the companies operation and recognize the improvement opportunities under the leadership of the Board and Audit Committee. The auditing team will carry out project auditing according to daily auditing operation findings, risk assessment results or key projects by the company's operating strategy. There may be thematic auditing based on different real-work functions, checking the operation of all worldwide organizations as one single theme; or taking an area or department as the auditing objective and executing a deep audit on all operations of an individual body. The ultimate aim is to set up a sound operating strategy to consolidate the foundation for long-term development of the company.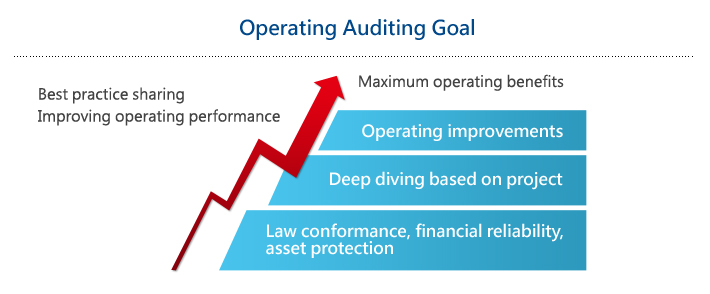 Auditing organization and orientation
The auditing office is an independent unit attached to the board, reporting directly to the board and Auditing Committee.
During the auditing operation, internal auditing is oriented at group partners of all units in the company, assisting all units to improve process efficiency, eliminate operation bottlenecks, import all necessary resources and share the best operating practices of other units, thus further facilitating the improvement and operating efficiency of the entire company.
Auditing - group partners of all BU
Bring in guest auditors to assist in improving operating efficiency
Focus on improvement and track the results
Integrate cross-unit resources as a communication bridge
Internal auditing operation
Draw up and implement annual auditing plan
Recheck the self inspection and implementation of all units and sub-companies
Supervise and urge the revision and conformance of internal control systems
Other affairs that should follow the laws and regulations
Follow on deficient affairs and recheck the results
Report to the Board and Auditing Committee
For significant deficiencies which are still not improved by audit rechecking, the internal auditing committee will invite unit managers to attend the board and Audit Committee meetings to discuss an improvement plan. For any auditing findings relevant to the company's resource allocation and operating strategy, they should be reported to the committee to determine the strategy for improvement in order to facilitate effective implementation.